Zeiss Conquest V4 4-16x44 Reticle 68 Elevation Turret
Regular price
$1,999.99
/
---
Product Overview
The Conquest V4 line of high-performance riflescopes combines the tried-and-true ZEISS optics concept with a rugged and functional design. Their compact design and perfect balance between a wide field of view and large magnification range is ideal for all types of hunting. The V4 models are equipped with a 4x zoom and functional, high-precision, and fully reliable mechanical components.
Thanks to its compact and lightweight design, the Conquest V4 4-16x44 is ideal for active hunting and hunting in the mountains. Its zoom range makes this V4 the perfect choice for medium and long-distance shots.
This Conquest scope comes with a a capped windage and exposed elevation turret meaning you can make rapid ballistic adjustments without the worry of accidentally adjusting for windage.
The quickly adjustable and external locking elevation turret offers tactile and perfectly audible clicks to provide additional reassurance and indicate any change in elevation. Regardless of whether your shooting distance changes rapidly this fantastic turret will allow you to react quickly and meet fast-changing challenges with a few swift clicks. All models with external elevation turrets incorporate Zeiss's highly coveted Ballistic Stop, for an absolute and precise return to zero setting
Features:
4x Zoom Range The 4x zoom range allows hunters to perfectly recognize details and offers an excellent overall view for a safe and accurate shot.
A clear view, whatever the weather There are always exciting things to be seen in the world of nature – even in wet weather. This is why ZEISS developed LotuTec®. A coating for the lenses of binoculars and spotting scopes that enables a clear and unhindered view in all weather conditions.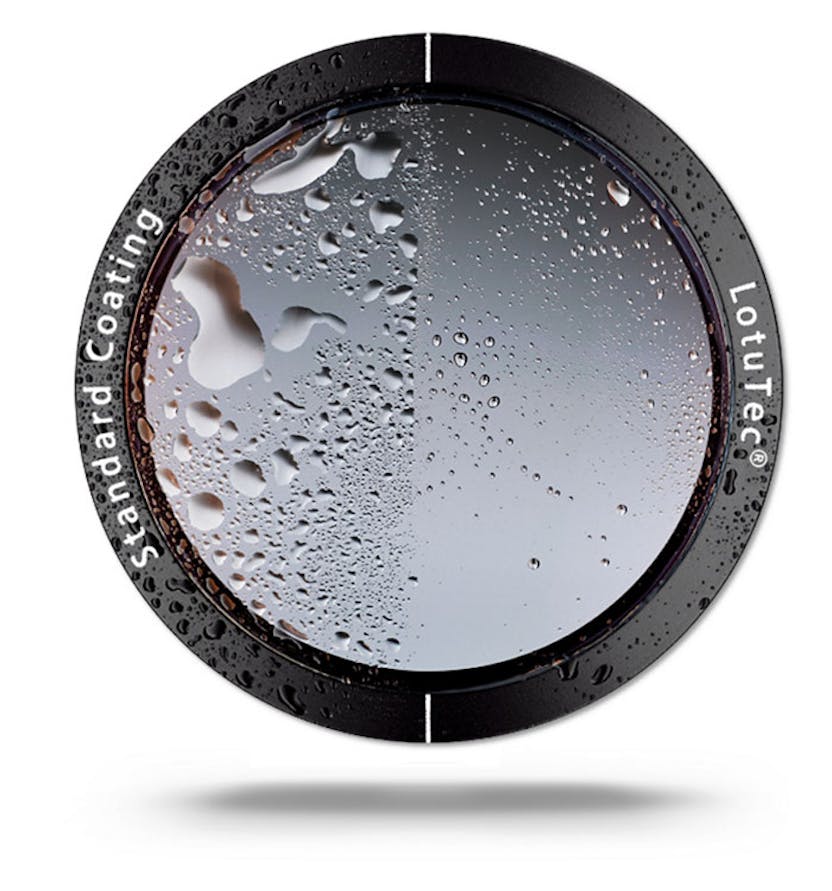 Stable and Shot-Proof The ZEISS V8, ZEISS Victory HT, ZEISS Conquest V6, and ZEISS Conquest V4 riflescopes are all ideally suited for use with "clip-on" attachments.
90% Light Transmission Higher definition glass produces 90% to-the-eye light transmission, great low-light performance and excellent target resolution across the entire magnification range.
ZEISS T* Coating ZEISS T* coating is a guarantee of the brilliant, high-contrast images­­ which you will experience above all in adverse light conditions and in the twilight. Behind it, however, there is no specific formula for building up the layers. Instead, it is a technology that is constantly adjusted to suit new glass materials and requirements, which varies from lens to lens.
Reticle Illumination The reticle illumination can be adjusted finely and accurately over 10 different levels, allowing hunters to precisely adjust the brightness to any situation and time of day – for the perfect shot.
Waterproofing immersion test Zeiss tests simulate continuous rain and complete immersion of the optics in water, ensuring that all ZEISS optics are fully waterproof. Side by side with metal test strips, ZEISS optics were stored in an aggressive salt water spray for 24 hours. While the test strips were covered in rust, the optics were entirely unfazed.
ZBi | Reticle 68
Illuminated
This reticle was primarily developed for hunting in open terrain and over long distances. The tree-shaped crosshairs are intuitively designed and offer an extremely precise aiming point. The tick marks and dots have a distance of one minute of angle (1 MOA) at the respective reference magnification and always provide a suitable holdover point, even in windy conditions. The ZEISS Hunting app can be used to quickly and precisely determine both bullet drop and wind drift for practically any ammunition, and also displays the distance values in a visual depiction of the reticle. Only the center area of the reticle is illuminated, for precise aiming even in poor lighting conditions. The ZEISS Hunting app can be used to quickly and precisely determine the change in subtension and the resulting bullet drop compensation and wind drift correction values for practically any ammunition.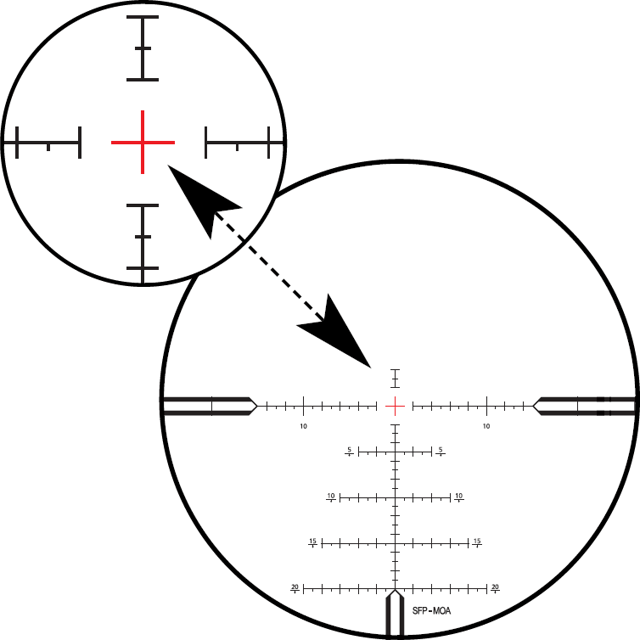 Specifications:
Magnification: 4 – 16 x
Effective lens diameter: 33.2 – 44 mm
Exit pupil diameter: 8.5 – 2.8 mm
Twilight factor: 11.5 – 26.5
Field of view: 9.5 – 2.4 m (31 – 8 ft)
Angular field of view, real: 5.4° – 1.4°
Diopter range: + 2.0 | − 3.0 dpt
Eye relief: 90 mm (3.54 ")
Parallax setting: 45.7 m – ∞ (50 yds – ∞)
Adjustment range at 100 m: 230 × 175 cm
Adjustment per click at 100 m: 1/4 MoA (0.7 cm /100 m)
Centre tube diameter: 30 mm
Eyepiece tube diameter: 44 mm
Lens tube diameter: 50 mm
Features: LotuTec | Nitrogen filled: + | +
Water resistance: 400 mbar
Physical Specifications:
Operating temperature: − 25°C | + 50°C (− 13°F | + 122°F)
Length: 356 mm (14.0 ")
Weight (without inner rail): 640 g (22.6 oz)