Zeiss Conquest V4 4-16x50 Reticle 64 Elevation Turret
Regular price
$2,399.99
/
---
The Conquest V4 line of high-performance riflescopes combines the tried-and-true ZEISS optics concept with a rugged and functional design. Their compact design and perfect balance between a wide field of view and large magnification range is ideal for all types of hunting. The V4 models are equipped with a 4x zoom and functional, high-precision, and fully reliable mechanical components.
Special models have a ballistic turret with a wide reticle adjustment range (elevation and windage). As a result, the hunter has the flexibility needed for a variety of different hunting methods. Optional ballistic reticles are also available that allow the hunter to quickly make elevation and azimuth corrections with no mechanical adjustment necessary.
Thanks to its zoom range, the Conquest V4 4-16x50 is the perfect choice for daily use over medium and long distances in difficult lighting conditions. With its 16x setting, you can easily recognize every detail and therefore always accurately identify the animal. 
Features
4x Zoom Range
The 4x zoom range allows hunters to perfectly recognize details and offers an excellent overall view for a safe and accurate shot.
A clear view, whatever the weather
There are always exciting things to be seen in the world of nature – even in wet weather. This is why ZEISS developed LotuTec®. A coating for the lenses of binoculars and spotting scopes that enables a clear and unhindered view in all weather conditions.
Stable and Shot-Proof
The ZEISS V8, ZEISS Victory HT, ZEISS Conquest V6, and ZEISS Conquest V4 riflescopes are all ideally suited for use with "clip-on" attachments.
90% Light Transmission
Higher definition glass produces 90% to-the-eye light transmission, great low-light performance and excellent target resolution across the entire magnification range.
ZEISS T* Coating
ZEISS T* coating is a guarantee of the brilliant, high-contrast images­­ which you will experience above all in adverse light conditions and in the twilight. Behind it, however, there is no specific formula for building up the layers. Instead, it is a technology that is constantly adjusted to suit new glass materials and requirements, which varies from lens to lens.
ZMOAi-T30 | Reticle 64
Illuminated
The ZMOAi-T30 reticle is the illuminated version of the ZMOA-T30. It offers the perfect balance between sport and hunting shooting. Hunters and target shooters prefer this option for their all-around riflescope. The MOA (minute of angle) crosshairs contain MOA tick marks and dots that provide a distance of 1 MOA at reference magnification and cover a bullet drop of 30 MOA. The lateral lines and holdover points are extremely useful for wind correction and are positioned in the field of view for maximum effectiveness and minimum distraction. The reticle illumination is limited to the central fine crosshairs, preventing the shooter from being affected by glare and providing an extremely effective and precise aiming point in adverse lighting conditions. The ZEISS Hunting app can be used to quickly and precisely determine the change in subtension and the resulting bullet drop compensation and wind drift correction values for practically any ammunition.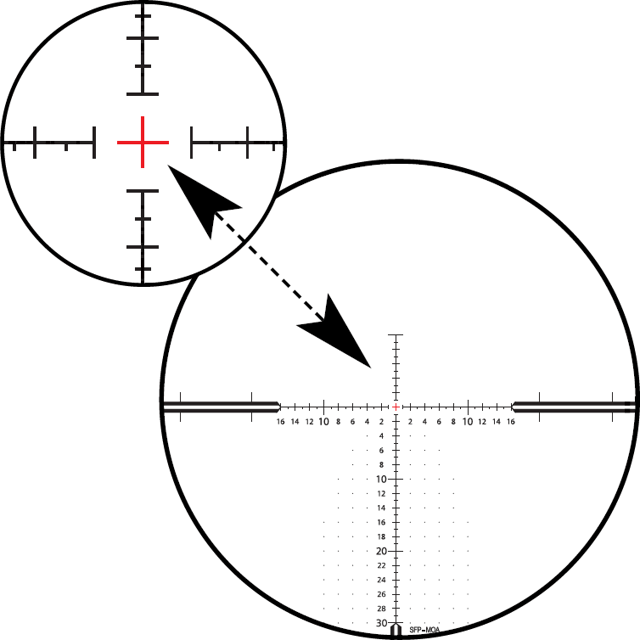 Specifications
Magnification 4 – 16 x
Effective lens diameter 34.5 – 50 mm
Light transmission 90%
Exit pupil diameter 8.5 – 3.1 mm
Twilight factor 11.7 – 28.3
Field of view at 100 m (yds) 8.7 – 2.2 m (28.5 – 7.1 ft)
Objective viewing angle 5.4° – 1.4°
Diopter adjustment range + 2.0 | − 3.0 dpt
Eye relief 90 mm (3.54 ")
Parallax setting 9.1 m – ∞ (10 yds – ∞)
Centre tube diameter 30 mm
Eyepiece tube diameter 44 mm
Objective tube diameter 56 mm